As if dealing with the headache of going through a remodel or clean up project isn't enough, now you have to deal with getting rid of all the stuff you don't need! Whether you are remodeling your kitchen or clearing out your entire garage, it can be challenging to get rid of all the trash and construction debris that you're left with. That's where a roll-off dumpster rental can help!
Many of us have been there before. You're wrapping up the project, adding the finishing touches and realize that there's quite a mess to clean up. That's when the idea of renting a dumpster hits you. So you pick up the phone and call your local dumpster rental company. That's when you're asked, what size dumpster would you like to rent?  Yes, that's right there are various sized roll-off dumpsters.
How do you select the right size without over doing it? You might not need a massive dumpster,  which you might underfill and overpay for; not to mention it's probably big enough to inconveniently block your driveway. Or, on the flip-side, renting a dumpster that's too small and might leave you with a heap of garbage sitting under the elements until you finally rent a second dumpster.  It's an expensive mistake that happens often.
Maybe we can help? We are your local, friendly, neighborhood dumpster rental company. Affordable Roll-Offs makes it easy to rent a dumpster that is the right size for your project. Ensuring you don't pay extra for more dumpster capacity than you can use. Here's a good way to gauge what dumpster size you might need. We compare a standard truck bed to our dumpsters, in an effort to provide a better reference for those of us who don't deal with trash on a regular basis.
Roll-Off Dumpster – Capacity & Weight Limits
Dumpster sizes are measured in Cubic Yards. A 30-Yard Dumpster has the capacity to hold up to 30-Cubic Yards of waste. As a reference, a standard Ford F-150 pick-up truck can hold about 2.5 yards of waste when loaded level at the top. Cubic-Yards are a measure of volume and not a measure of weight. 1 cubic-yard is equivalent to 3'ft Long x 3'ft Wide 'x 3' ft Tall box.  
The weight of a dumpster can vary depending on the type of material you will be disposing of. It's important to keep weight in mind when disposing of heavy materials, such as rock, dirt, concrete, brick or sod. Heavy materials can exceed the weight limit of the dumpster resulting in overweight charges. Please see below for weight limits included with our rentals. If you have questions or concerns regarding heavy materials please give us a call or email us at [email protected] we're always happy to help! 
Roll-Off Dumpster Sizes & Details
30 Yard Roll-Off  – 8'ft Wide x 23'ft Long x 6'ft High

A 30-yard dumpster is ideal for large projects or clean-ups, whether that be at your home or at your job site. Check out the specifications below to determine if you should rent a 30 yard dumpster for your project:
Dimensions: Our 30 cubic yard dumpsters measure 8'ft Wide x 23'ft Long x 6′ High
Capacity: approximately 12 standard pickup truck loads.
Weight Limit: up to 5-tons included in our flat rate. That's equivalent to 10,000 lbs!
Pro Tip: The dumpster 8′ ft door makes it easy to load larger items such as large cabinets, sofas, and other various items.
*The figures reflected above are approximations
---
15 Yard Roll-Off  – 8'ft Wide x 16'ft Long x 4'ft High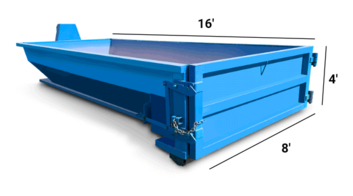 Our 15-yard dumpster is the perfect size for small to medium clean-ups or remodeling projects. It's shorter length makes it the ideal choice when space is limited. It's lower height sidewalls allow for convenient loading, which saves you time and energy!
Dimensions: 15 cubic yard dumpsters measure 8'ft Wide x 16'ft Long x 4'ft High
Capacity: approximately 6 standard pickup truck loads.
Weight Limit: up to 3-tons included in our flat rate. That's equivalent to 6,000 lbs!
Pro Tip: This is the dumpster to use for short driveways.
*The figures reflected above are approximations
---
Make Life Easier and Reserve Your Roll-Off Today!
Even our smallest dumpster can hold 6 times the capacity of a pickup truck bed, saving you time and money in the long haul. Next time you're in need of a roll-off dumpster the approximations above can serve as a way to guesstimate what size roll Off you might need.  Feel free to call us anytime if you still aren't quite sure what size dumpster is right for you. We are always more than happy to help.
Frequently Asked Questions